I was actually going to do an OOTD post today, but the kind of incidents that we bloggers have been coming across lately had to be addressed urgently! First things first, a blogger is someone who writes journals (also known as blogs in digital world) to express their opinion on a certain topic. In earlier times, it was purely a journal based hobby, which as the world of web picked up, came in the parallel spotlight as well. Brands started associating with bloggers, asking them for their opinion about the brand's services and goodwill. And those were the times when bloggers were obliged to give in their honest reviews. But in today's time, doing reviews comes under the crucial radar of brands who prefer scanning the 'drafts', eliminating anything negative, highlighting the positives and only then paying the blogger to publish the content.
But this post is not about the 'Evolution of Blog', but more about how bloggers are being exploited by Brands and Public Relations to get free promotions, shout outs and indirect marketing to benefit selves. So following are the 5 reasons why we bloggers CHARGE MONEY FOR PROMOTIONS.
1. We are not journalists who get fat cheques from publishing houses!
This one really needs to be addressed out loud. Many PRs send across press releases, requesting us to 'publish' it on our esteemed 'publications'. Sure, we do write ups, add critical comments and promote a brand on our social media like any print media; but we don't have any publishing houses backing us to invest in our bank balances.
2. We don't pay our bills with PRESS KITS!
Unless, their is a parallel world where such barter deals really exist, our grocery guys, milk guy, electricity provider, water provider, tv cable provider, fashion store salesman and other service providers in our lives DO NOT TAKE CANDIES in return of their services. Why on earth will we do it for free, when you don't sit in your branded cubicles for free either?
3. We know how to write, more than pout & pose (and buy Instagram followers)!
Again coming back to the real meaning of blogging, because the term has been diluted to a more graphical – pretty please poser kind of situation in current times. BLOGGING means – Thinking of a theme, spending an hour (or 2) churning down the article, correcting grammatical errors and polishing the article, clicking photographs or surfing the internet for complimenting images, editing the images, drafting the article along with the right alignment of images, publishing the article on our blogs (which receives genuine organic readership), doing social media amplification, promoting the article on various groups & the likes of quora, providing backlinks to the brand, promoting their services and parking their name in the google ranking system.
What do these Instagram bloggers do? Buy followers, wear the pretty clothes and pout, get clicked, get the photographs edited, add a caption with instagram backlinks to the brand and posting it on their 'INSTAGRAM BLOG'. And then prolly buy some more followers or insta-photograph engagement to show the client that they've received 200+ engagements on the photo. What about Google ranking, other social media amplification, review of the brand and critical comment on the brand? Who cares!
4. We haven't built up a readership to do charity. We ain't no NGO!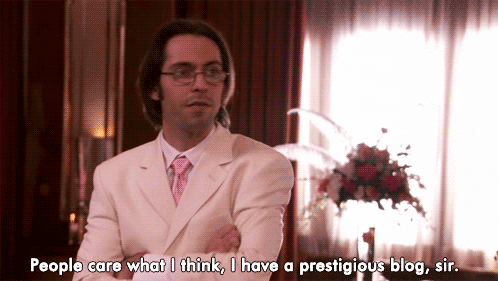 Guess, becoming an NGO will be more preferred in this case as their will be at least some generous investors who will volunteer to handle our survival bills. For all the brands and PRs who appreciate our blog and do realise our potential in promoting their brand healthily should also understand that we are not churning out commercial articles to do some kind of social services to the brand.
5. Dad says "Beti, kuch kaam karle. Facebook and Computer ke saamne baithne ke liye nahi padhaya tha tumhe!"
Translation "Daughter, please work and earn something. We didn't pay for your school and gradution fee so that you can be literate enough to just sit in front the computer and Facebook!"
If explaining elderly people what 'blogging' or 'social media influence' is not enough, the melodrama of convincing them that their is life beyond doctorate and engineering turns out to be a bigger agony of life!
All that we ask for is a little respect to the blogging community and an appeal that brands and PRs understand the difference between a blogger, a journalist and the buy-fake-followers-become-instagram-star actually is. We all still hope that the future of blogging is healthier, with more appreciation to the quality over easily-bought quantity. Namaste!